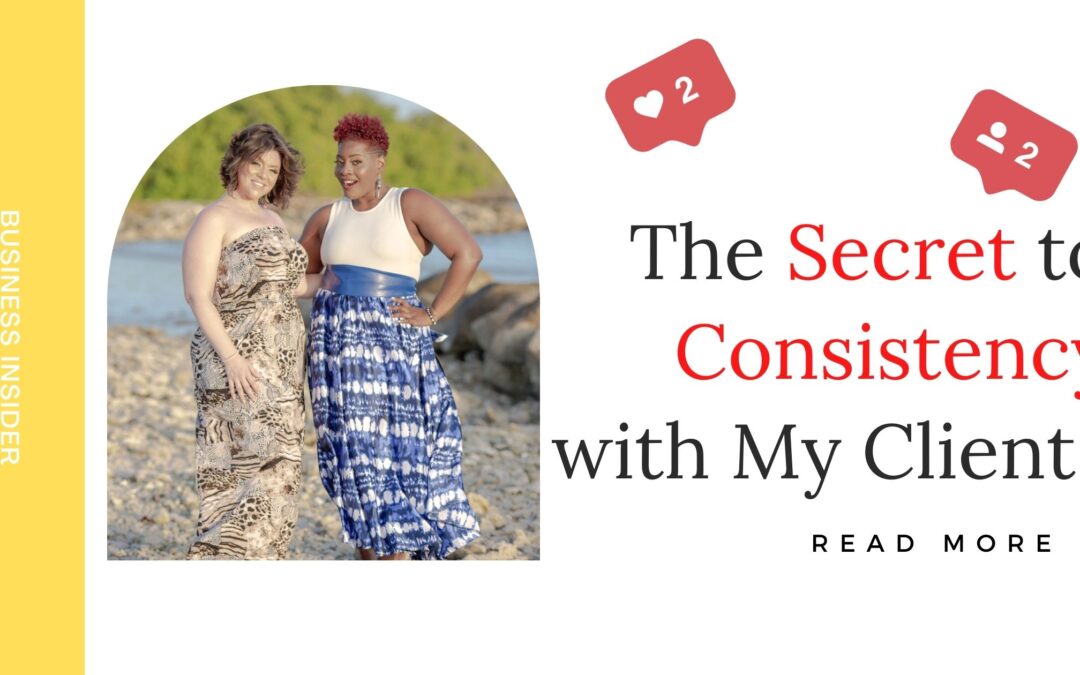 I just got off a call and it was actually an accountability pod call with some of my clients in my academy. They were sharing some of the things that they're working on next. I began to think about some of the growth I've seen, some are consistent growth across the pattern. I'm saying "pattern" because sometimes it has to be a pattern for you to notice what is the system in the process.
Now, on a scale of 1-10. Tell me, are you being consistent with your business? Everything's running smoothly? I want you to keep it REAL. It's okay if you're not consistent, not everything's going according to your plan and this is a very common pattern I noticed as a coach of CEOs. Not having strength, consistent progress, and growth for their business is one of the common struggles as a business owner.
And thanks for keeping it real! To be honest, being consistent is one of the things that is super challenging. Especially for moms, busy moms, and moms that have special needs children. This is also applicable for professionals out there who are trying to juggle everything!
When we're trying to juggle everything, one of the balls are always dropping. And when it happens, it makes it harder for us to have that consistency in our life and in our business. (Real recognizes real, right?)
If you've been following me for months, either on facebook or instagram, emails, blogs, You know that I am consistent.
You know that you'll see something from me almost every single day. You'll see me showing up in my business or just sharing my life. And if you want to see the books I published, you'll see the backend of my system. The growth and revenue on my business are consistent as well as my client's business too.
Some of the things we notice are the biggest & most common challenge: it is when things happen that derail us. Those Unpredictable moments.
When something unpredictable happens, a lot of us tend to fall by the wayside and we have to be okay with that, sis! We got to be okay with the fact that everything can't be 100% okay.
So here's the number one secret for consistency… Are you ready?? Ready for consistent revenue & growth?
This is something I had to find out. It was a hard lesson for me to find out. The number one lesson is making sure that I celebrate my baby wins. (And y'all expecting something gigantic, right? lol) BUT baby wins matter! It matters because sometimes we forget to celebrate the little steps, the little things we get to accomplish. The little course that we've made between where we were a few years ago compared to where we are now. You should always break it down from work -to family – to business. Remember, there's no such thing as balance. What's important is you make it work!
I gave up balance a long time ago when my coach, Lisa Nichols, said "There's no such thing as balance but there's something we call harmony." – that clears up everything.
I stopped trying to get the same amount of time spent with my family, work, and business because it's not true. What I focused on is having the concentrated effort to make sure that you're touching in the specific areas that are super important to you and to your future.
In case you didn't know, I'm a legacy-driven coach and I speak a lot of pop-up shops BUT I also believe in taking time.
I don't believe that we need to do everything in a rush but I do believe that we should take the time to instil one step at a time to avoid being overwhelmed.
We'll feel overwhelmed when we keep on trying to do so much that we can do in a day. My son, Zachary, is my best teacher. He's the one that has helped me to slow things down and to create consistent steps. Meaning: I'm going to take a step today and maybe another step tomorrow. But by the next 2 or 3 days, there'll be another step. Some days, when we have the energy and momentum then we can take a few steps on those days.
But we should always be okay on those days when we're not floating high or on the days that a lot is going on. We should know our body and know when we are operating in higher vibrations and when we are not. If we're not, those are not the times to focus on those specific things.